The International Coffee & Chocolate Exhibition successfully integrates all aspects of coffee and chocolate (and coffee & chocolate related industry) under one roof and features the best equipment, services and products from regional and international producers and suppliers.
The event delivers the most progressive global industry-related products and services to the region and provides exhibitors the needed exposure in order to generate qualified leads and develop long-term business relationships.
The event has something to offer for everyone interested or working in the coffee and chocolate industry, as it is the place for coffee & chocolate lovers to gather and taste, experience and explore!
Exhibition Events: Super Barista Competition, Super Latte Art Competition, Coffee Tasting, Training Seminars
Date and Time: Monday, December 15, 2014 at 4:00 PM – Wednesday, December 17, 2014 at 10:00 PM (PST)
Address: Ball Room, Burj Rafal Hotel Kempinski, 7647 King Fahd Rd, As Sahafah, Riyadh 13315
Coordinates: 24.792135, 46.632940
Google Maps Link: https://goo.gl/maps/Mx3I0
Phone: 011 511 7777
Website: http://www.kempinski.com/en/riyadh/burj-rafal-hotel/welcome/
Online Registration:
http://www.coffeechoco-expo.com/en/VisitorsRegistration.aspx
http://www.eventbrite.com/e/international-coffee-and-chocolate-exhibition-2014-tickets-12183211313?aff=estw
Official website: www.coffeechoco-expo.com
Organizer
Heights Agency is an Award-winning MENA Events Management Company, with its Head quarters in Riyadh, Kingdom of Saudi Arabia (KSA) with branches in Dubai, Cairo and Amman. We deliver creative and innovative solutions for outstanding Events & Exhibitions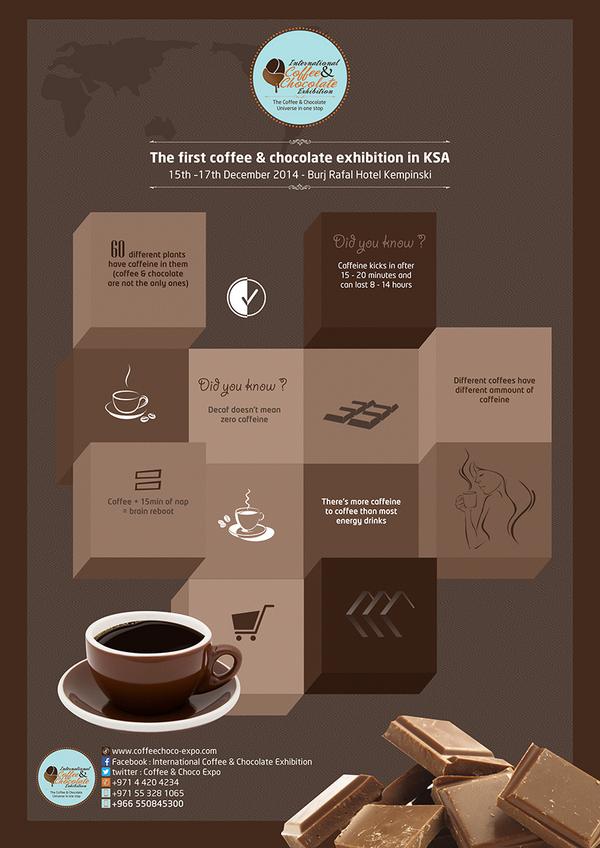 I will share my feedback after visiting it.
Update(17-12-14): I visited it yesterday, it is more coffee oriented than chocolate but I guess according to weather that was more suitable. It is not very big but it is targeted to common man thus you can get good information and free coffee/chocolates to taste/test. I liked the hot chocolate of Meed Express the most.
Burj Rafal Hotel Kempinski failed to impress me, it is a big name but the interior was not very impressive.
-urShadow